Blue Ox BX7365 Alpha 6,500lb Tow Bar
$ 66648

$ 666.48

Save $ 204
---
---
Description
The Alpha tow bar is for use with towed vehicles up to 6,500 lbs. This easy foldaway tow bar mounts and stores on the back of the RV when not in use. It is self aligning, has quick disconnect hookup pins and Signature Series easy-release locking handles. It is constructed with solid steel. Safety cables are included.
Features & details
an easy, fold-away tow bar with a capacity of 6,500 lbs, Weighs only 35 lbs

Mounts and stores on back of RV Self-aligning, with quick disconnect hookup pins

Easy release locking handles for quick disconnect

Dependable steel construction Off-set triple lugs to better align towing forces

Rubber boots to protect from road grime Includes 10,000 lb. safety cables
Hitch Mount Style
Telescoping
Blue Ox
Blue Ox
6500 lbs
Stores on RV
Non-Binding
Steel
Product information
| | |
| --- | --- |
| Brand | Blue Ox |
| Model | BX7365 |
| Item Weight | 41 pounds |
| Product Dimensions | 6.2 x 6.2 x 43.5 inches |
| California residents | Click here for Proposition 65 warning |
| Item model number | BX7365 |
| Discontinued by manufacturer | Yes |
| Manufacturer Part Number | BX7365 |
| OEM Part Number | BX7365 |
| Folding | No |
Additional Information
Blue Ox Tow Bars - BX7365
Tow your vehicle securely behind your RV with this durable steel tow bar. Hookup is a snap, even on unlevel ground, thanks to the unique swivel feature and self-aligning arms that automatically center and lock in place.
Features:
Tow bar lets you tow your vehicle safely and securely behind your motorhome

Slides into trailer hitch receiver on RV - no ball mount necessary

Swivel function makes it easy to connect, even on unlevel terrain
Self-aligning design - hook up to base plates on towed vehicle and drive RV forward

Arms extend into rigid, tow-ready position and automatically lock in place

Triple-lug connection - sturdy brackets on the end of each tow bar arm provide reinforced connection to base plates

Each arm attaches and detaches from base plate with 2 easy-to-access pins

Simple, secure storage alongside motorhome

Arms fold up, rotate down, and secure in place horizontally with the integrated hold-up bolt

Powder coated steel is durable and corrosion resistant
Rubber boots protect telescoping arms from dirt and grime
Safety cables are included
Made in the USA
Specs:
Capacity: 6,500 lbs
Application: 2" x 2" trailer hitches
Compatibility: fits Blue Ox base plates that are spaced between 16" and 36" apart on center

Can be adapted for use with Roadmaster base plates with the Roadmaster Base Plate to Blue Ox and Demco Tow Bars Adapter (RM-033; sold separately)

Arm length (as measured when arm is pulled out straight in front of the hitch receiver):

Extended: 48-3/4" from center of hitch pin hole to center of base pin hole
Retracted: 39" from center of hitch pin hole to center of base pin hole

Weight: 35 lbs
3-Year warranty
Necessities for Flat Towing
| For the RV | For the Towed Car | To Link the Towed Car and RV |
| --- | --- | --- |
| Hitch | Base plates | Tow bar |
| Wiring plug | Braking system | Safety cables |
| | Wiring kit/diodes | Wiring adapter cord |
Swivel Function
Tow bars are notoriously difficult to connect and disconnect, especially on uneven surfaces. Rigid tow bars have arms that are essentially locked in place so you have to drive your towed vehicle into the exact position necessary for hookup. But with the Alpha, you can connect from the approximate towing position, even on unlevel terrain. The unique swivel design allows the tow bar arms to turn and pivot just enough to compensate for a slight height difference so you no longer have to worry about being on completely level ground.
Self-Aligning Design
The convenient, self-centering arms help to make hookup a snap as well. Once you have connected the tow bar to the base plates on your towed vehicle, simply drive your RV forward until the tow bar arms fully extend and lock in place.
Non-Binding Tow Bar
Blue Ox has defeated the age-old problem of binding by creating a tow bar that is just as easy to release as it is to hook up. Simply press down the locking handles on the tow bar arms until the internal latch disengages. By releasing some of the static pressure from your tow bar you can flex its arms just enough to make disconnecting from the base plates a snap, even when it's out of level with your RV.
Triple-Lug Connection
Blue Ox base plates on your vehicle are equipped with two tabs each that connect to the brackets on the ends of the tow bar arms. These brackets are referred to as "lugs." The unique triple-lug design of the Alpha tow bar creates a tighter, more stable connection by surrounding both base plate tabs. The result is a sturdy, reinforced connection that is stronger and more rigid for a safer, more dependable towing experience.
Hooking up the Alpha to your base plates is as simple as it is secure. Just insert the triple-lug end of the tow bar arm into the base plate so that the center lug is positioned between the two tabs of the base plate. Then insert the 1/2" keeper pin through the lugs and tabs and secure it at the end with the included quick pin.
Simple Storage
The Alpha can be easily stored on your RV when it is not in use. After disconnecting the tow bar from your towed vehicle, push the arms of the tow bar together so that they are side by side. You can then fold them up toward the RV and insert the integrated hold-up bolt into place on the hitch connector. Then pivot the arms down so that they are held firmly in place alongside the RV, parallel to its bumper.
Guide to Flat Towing
Flat towing your vehicle is much more convenient than using a trailer or a tow dolly. These other options take up much more storage space, leaving you less room both at home and at the campsite. In addition, securing your vehicle to a trailer or tow dolly can be a hassle and more time consuming than hooking up with a tow bar.
There are 5 basic components needed when flat towing a vehicle: a tow bar, a base plate kit, a safety cable set, tow bar wiring, and a supplemental braking system.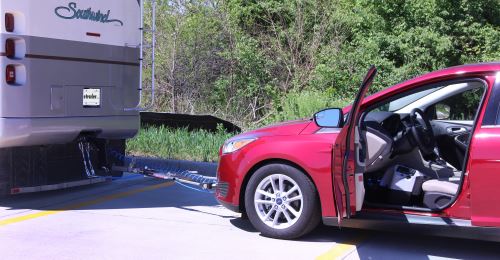 The tow bar links your towed car to your motorhome. It attaches to the custom-fit base plates that install on the frame of your towed car. Safety cables ensure that your towed car does not separate from your motorhome in the event that your tow bar becomes detached. Tow bar wiring allows your towed vehicle's signal lights to sync up with your motorhome's tail lights, which is required by law in most states. Finally, the supplemental braking system - also required in most states - brakes your towed car when the brakes in your motorhome are activated, preventing wear on the motorhome and decreasing braking distance for your entire setup.
BX7365 Blue Ox Alpha Tow Bar