K71-650-00 Dexter DX Series Electric Over Hydraulic Brake Actuator for Drum Brakes - 1,000 psi
$ 67989

$ 679.89

Save $ 74
---
---
K71-650-00 Dexter DX Series Electric Over Hydraulic Brake Actuator for Drum Brakes - 1,000 psi
Electric-Hydraulic Brake Actuator
Drum Brakes
Dexter Axle
1000 psi
Dexter Axle Brake Actuator - K71-650
Electric-hydraulic brake actuator works with your brake controller (sold separately) to activate your trailer's drum brakes. Vented housing releases heat and moisture. Enhanced wiring protection safeguards internal electronics.
Features:
Electric-over-hydraulic brake actuator activates your trailer's hydraulic brakes when you apply the brakes in your vehicle

Brake controller (sold separately) is required to send signal from tow vehicle to actuator when brakes are applied
7-Way trailer connector (sold separately) is needed to transmit signal from brake controller

Improved functionality when compared with surge brake couplers

Faster response time - activates when you apply brakes in tow vehicle, as opposed to when trailer pushes against hitch ball
No need to manually lock out brakes when you back up
Trailer brakes can be intentionally activated when you reverse
Manual override on brake controller can be activated so you can engage the trailer brakes without having to apply your vehicle brakes

Vented design releases pressure, moisture, and heat to protect the internal components

Allows actuator to be mounted in places where most actuators would overheat

Electronic, proportional pressure valve ensures smooth, even braking
Self-priming pump reduces time needed for brake bleeding
Enhanced wiring detects dangerous current levels and shuts down actuator electronics in the event of a surge
Durable aluminum housing and stainless steel fasteners resist corrosion
Goretite seals protect the circuit board from the elements
Compatible with most 9-amp-hour-battery breakaway kits (sold separately)
DOT

 

compliant
Unit installs on trailer frame and connects to trailer's wiring and hydraulic brake lines (sold separately)
Made in the USA
Specs:
Application: single-, tandem-, and triple-axle trailers with drum brakes
Maximum output pressure: 1,000 psi
Dimensions: 11" long x 6" wide x 7" tall
Distance between mounting holes (center to center):

2-1/2" between holes on same side of bracket
9-13/16" between holes on opposite sides of bracket

Mounting hole diameter: 1/4"
Hydraulic port size: 3/16"
Power: 12V DC
Wire configuration:

Black: 12-volt power
Blue: brake controller
Yellow: breakaway
White: ground

2-Year limited warranty
Dexter DX Series Actuator
The Dexter DX Series electric-over-hydraulic actuator is a dependable choice for your trailer braking needs. It is capable of up to 1,000 psi of pressure output to provide strong stopping power for your drum brakes. The lightweight, corrosion-resistant housing has fins and vents built in to shed excess heat. Inside the housing, the unit features enhanced wiring protection, allowing it to detect dangerous current levels to prevent damage from surges or improper wiring. Another internal highlight is the solid-state electronics, which regulate the actuator's electrical components to ensure consistent performance. All of this is cleanly secured within the aluminum housing by stainless steel fasteners, while Goretite seals protect the internal electronics from exposure to water and other elements. The DX series also remains compatible with most aftermarket and OEM-integrated electric brake controllers on the market.
Electric-Over-Hydraulic Actuator vs. Standard Surge Brake Actuator
With the DX series electric-over-hydraulic actuator, you can get all the benefits of towing with an electric brake controller while using hydraulic brakes. Because this actuator will activate according to the setting you have chosen for your brake controller (sold separately), you will have more control over when and how your trailer brakes engage. Depending on the features of your brake controller, you may be able to control both the rate and intensity with which your trailer's brakes activate. If you have a proportional brake controller, your brakes will be activated with an intensity that matches the braking speed and power of your tow vehicle.
This gives you multiple benefits over a standard surge-type actuator. Your trailer's braking will be tied to the braking activity of your vehicle instead of the momentum of your trailer. This will help to limit stress on the tow vehicle, and it will give you the ability to reverse without the trailer's brakes kicking in.
You can also activate the manual override on your brake controller to send out full braking power to the actuator. This will activate your trailer's brakes with full intensity. This is especially useful when traveling down steep hills with a fully loaded trailer. In instances like this, the trailer may require maximum braking power to avoid a jackknife situation.
Large Brake Fluid Reservoir and Self-Priming Pump
The large brake fluid reservoir in this actuator ensures that there'll be enough hydraulic fluid to handle a single-, tandem-, or triple-axle trailer regardless of its size. A self-priming pump reduces the time needed for bleeding the brakes and prevents the brake fluid from emptying back into the reservoir when the actuator is not in use.
Dexter DX Series Actuator Installation
Before installing this actuator, be sure that you have an electric brake controller with an output capacity of at least 5 amps.
You will also need enough 3/16" diameter automotive brake line (sold separately) to connect the unit to your brakes.
Mount the actuator level and upright in a dry area on your trailer. It is recommended that you mount the actuator near the front of your trailer. Do not mount it near the trailer axles or at the rear of the trailer.
The Dexter DX Series actuator splices into your trailer's wiring. Follow the diagram below when connecting the wires. 12-Gauge wire is required, but 10-gauge wire is recommended to ensure the best performance.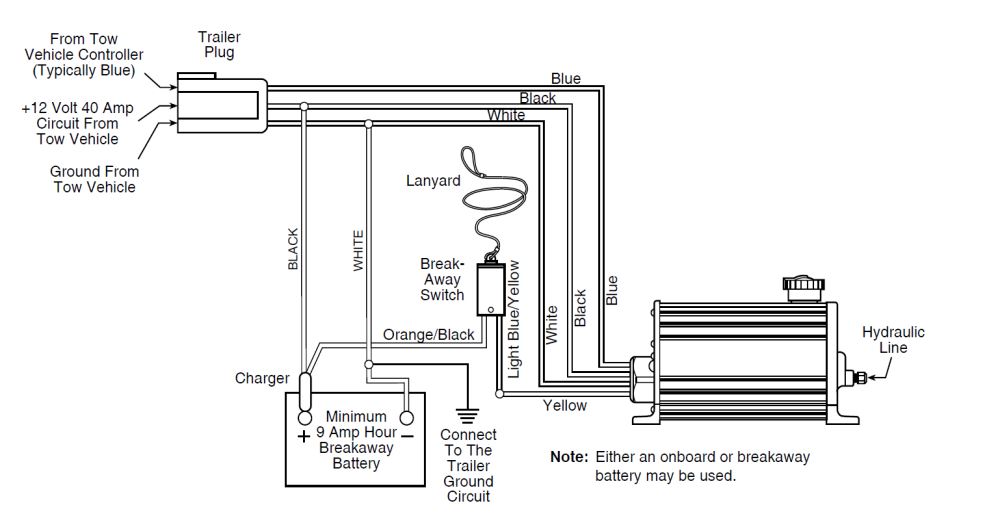 K71-650-00 Dexter Axle DX Series ElectroHydraulic Brake Actuator - Drum Brakes - 1,000 psi